(For those of you who've been waiting for this…sorry…I didn't forget about you…Especially the little old lady in Poughkeepsie  and my fanbase in Sweden… (Tak) thanks ~danof89)
So it's that time of year again…When all of the "Best and WORST of the Year" lists are being pumped out in frenetic fashion by any and every social media outlet, weekly or bi-weekly supermarket tabloid fodder-peddling, telecommunication conglomerate opinion-offering, recently-acquired amalgamation of the A-list and/or A-hole Analyists and Industry Insiders imaginable…(deep breath)…Here comes one of "MY" lists…In all fairness (to me, because life isn't fair and you guys really need to start cutting me some slack) what I've compiled isn't exactly a "list"…so much as a "roster"… and even by "my" standards… Either way it seems to be getting pushed back later and later every year. I started out getting these "rosters" out to you around "Halloween" each year, but I find myself scrambling (okay, you caught me…I don't scramble for anything these days…unless it's the last mozzarella stick on the "Appetizer Sampler Platter" on my family's bi-monthly pilgrimage to "Denny's")
Nonetheless, I am "throwing this thing together" later in the year than I used to…Kind of like the Dallas Cowboys put together a "fieldable" football team sometime in late December, only to come up short in their playoff aspirations…but I digress… …Sue me…you ain't payin' for any of this crap… Then there's the fact that "this" year I'm calling it a "roster"… and NOT a "list"… The "Creepy Songs" thing; well, that can be a list if you're all hell-bent on having a "list"…As, I've offered before, I just don't really care for "lists"…Don't have much use for 'em. Lists to me seem to represent "organization" and I'm not really that organized of an individual. Oh, I've "tried" to organize various aspects of my life at different stages in my evolution, but for some reason, I always seem to settle back into something that more closely resembles "controlled chaos"…But enough about me…You're reading this to see who pisses me off and as an extra little "bonus", what songs I think are a little on the "creepy side", right? I certainly hope so. Because if you're NOT, then I have grossly mismanaged my time. This is something else I've been known to do on occasion…I've even been known to "waste" time…But rather than waste any more of yours, I think I'll add to the "roster"…A roster I started 4 years ago and one that just keeps on g–r–o–w–i–n–g 
Once you've finished reading this year's additions, I'd like to invite you to take a look back over the folks who've made "the cut" the past couple years. I don't want to go "tootin' my own horn". (yes, I do…I "relish" it)…But, a lot of these folks seem to have "faded" in our social consciousness…Did I have the foresight to "see" that these people were frauds, posers and charlatans? Well…probably not…Because if history is any indication, society has a problem with their collective short term memory, and oft' times are more than happy to welcome some of these "dumb-asses" back into the fold. As I've stated MANY times, it seems that the "Talent Pool" forCELEBRITIES or "CELEBRITY-like alternatives" is fairly "shallow"…There seem to be a select few (I'm thinking around 50 or 60…TOPS) that folks think are "The Bee's Knees"…
…So, we "recycle" them…When one gets in trouble, does something stupid, etc…we simply half-heartedly "shun" them, maybe talk about them at work for a week or two, temporarily boycott whatever "artistic works" they may have produced-  which usually consists of anything we wouldn't have watched, listened to or found any entertainment value in anyway. …At that point they are relegated to a "Special" place. I'm not sure "where" it is…(probably, some place really nice) But it is known in the "industry" as CELEBRITY LIMBOLAND…(that's officially what it's called) Until, we (the discerning public) decide we can stand the sight of them again or gradually have them weened  back into society, by assigning them a voice-over job for an animated character in the next Disney Pixar Money-Making (but short on quality storyline-making) Production…OR simply dust them off and trot them out again publicly, because, "NO ONE will ever be the wiser" (except me)…The timing of this "Hollywood Shuffle" is simple, but effective… When a CELEBRITY gets in trouble or the next chumpstain goes and pulls a bonehead move, the "Screw-Up" gets shipped off to the "Special" place…
Maybe that clinic in Malibu "Passages"
…Then after Dr. Drew (it's always Dr. Drew) decides that the person has sufficiently repaid their debt to a society I am not currently a card-carrying member of, a phone call is made (by the former "banker" from Deal or No Deal) and we pull the "switcharoo". …The old, yet "Newly-Reformed Celeb" is driven in (usually by Stretch Hummer subsidized by taxpayer dollars and as part of the government's official CELEBRITY REALLOCATION PROGRAM) to an undisclosed luxury home somewhere in Los Angeles…the "good part" of L.A. …where people like us don't get to casually "hang out". Here, the celebrity is reintroduced to society…"high society"…but "WHY?"… …Cuz, "That's Entertainment"… …No my "friends" (for lack of a "correct" term) …that's not entertaining…that's sad…and it's kinda' "Scary"…and that's why I let you know who "I" think are…
This Year's 10 Scariest Celebrities…
You know 'em. . . you love em'. . . …They have been viewed by most as "Celebrities" as far back as recorded history…Government and Political Officials have always stood poised to grab "their fair share" of the spotlight…But, you might ask, "Why would ANYONE invite society into their personal lives?" I'm guessing they're just really rich and really bored…they figure, "Why not give this Running the World thing a try? I mean, what's the worst thing that can happen, really? They don't just give ONE DUDE access to "the button" anymore, ya know…Nobody can really hold me "accountable" for anything"… …Which is the PERFECT way to get this year's "roster" off the bench and in the game…Let's start by introducing a COLOSSAL waste of TIME…and sharing the bottom spot on this year's "roster"…
#10) Mitt Romney / Paul Ryan
…This photo has obviously been "doctored"…the "actual ceremony" hasn't taken place yet. It is set to take place in the chilly waters of the Potomac River In Washington D.C. (sometime very soon)…This photo was snapped shortly after the duo had their "asses handed to them" in the recent Presidential Election and in turn, handed those asses over to each other for "safe-keeping" in a private "Legal Gay Marriage" off the coast of  Kuaui…Though gay marriage wasn't actually allowed "for realsies" until around December 6th, here state-side, these two "Cutting Edgers" sought solace (and a deep tongue kiss) in each other's arms, when they fled the country to Hawaii, shortly after early exit polls showed their dreams of being "Really Important Dudes" start to wither away…I'll tell you something that WON'T be withering away…These two guys' propensity to be "Rich, Out of Touch With Reality and Annoying"…Or their "LOVE" for one another…So, I guess, in the end, we helped make a "Love Connection"…
Way to go America !
So, I said this photo had been "doctored", didn't I? Well, that's true…The "stingray" pictured officiating the nuptials was actually inserted via Photoshop…The person actually presiding over this "Red Letter Day in Red State Reversal" wanted his image to be removed, so as not to confuse his constituents about where his allegiance falls… 
Yes, thanks goes out to actor/director/guy that pisses me off , Kevin Smith (an ordained minister – a fact that I find humorous, offensive but not completely out of the realm of things that make me say, "Go Figg'r")…Who just wanted to see these two kids "HOOK UP FOR THE LONG HAUL"…No need to worry geeks…Kevin still REALLY likes "Comic Books" too…
...and "food"
 …"But HEY THERE…not so fast," you say hypothetically?? "That is ONE BIG Sting Ray and though he (Kevin Smith) is indeed a REALLY BIG FAT ASS, we think you are blocking more than just the sight of Kevin Smith (said, "Fat Ass") in this picture…though, it is still appreciated…I mean, not making us look at Kevin Smith in all his fat-assedness…but there's something else you're hiding…WHAT GIVES?" …To which I hypothetically respond, "You're quite welcome…and indeed…I believe you've caught me in a bit of 'fib'…But I was just doing what I thought was right." …You see, there was a "second masquerading minister" in the waters that day. But as a matter of NATIONAL SECURITY, I had been asked not to disclose that to you"……But… Since we're all good friends here, I can't see any harm in giving you a hint…
he had a "temporary license" issued to perform the ceremony by "pulling some strings"
his wedding gift for the newly-betrowthed was matching his and his

"Pocket Fishermen

"™ (no…they were not manufactured by

Ronco

®

 , no they're not available at

Walmart

©

…

and no, you don't

 

know what I mean

wtf?

)

…he was also in charge of security and catering for the event
he graduated from West Point
he likes moonlit walks on the beach and enjoyed quite a few of them on "this" trip to Hawaii
he's a Scorpio
….oh! and…
until recently, he'd apparently had the decency to "keep it in his pants" and remain "faithful" to his wife Holly, of like, a LONG ASS TIME…because he'd been MARRIED to her and EVERYTHING!
…and he is former head of the CIA…
…Give up?!…
yeah…David "The Dillhole" Patraeus… Wow, that was A LONG way to go…even for "me"! Just to be able to fit four guys I can't stand onto this year's list?…uhm, I mean, "roster"?… I guess…but it was "necessary"…these guys are all "TOOLS"! Politically motivated tools with  "not-so-hidden" agendas. I guess, some are in it for notoriety, some for money, some to get laid and some…to try and convince everyone that they are the "cool kids"…and "outsiders, just like everyone else"… Then they end up becoming everything they say they aren't and make really crappy Hollywood movies that even "Hollywood" (who hasn't had an original thought or script in 25 years) won't finance and get their own show on AMC….uh, wait a second, my tangent just developed a tangent…You sort it out…I'm workin' here… …To me…These were ALL the same  a**holes that ran for "Student Council" at school…I didn't understand what it was they "did", then…and I certainly don't understand it now…They deserve to be on the roster being forced to share  "one spot". …and if I had to "squeeze" all four into ONE SPOT, you can blame Kevin Smith…He doesn't like to move over…or buy an extra spot…for his FAT ASS… (Please note: While I am well aware, it has been a couple of years since Kevin Smith's "incident" on Southwest Airlines and though I have "ample" fuel for a fire in the depths of my bowels, where I keep assorted things – such as Kevin Smith's career – that I find "difficult to digest", I am not going to spend more time explaining the reasons I think Kevin Smith is a big fat talentless turd…look it up…either on "this" site or someone else's. I am not focusing on his "weight-issues" as being the reason I dislike this guy. I tolerate a LOT of fat people. I am not shallow and superficial…That's "his" gig…Thank You….~ the management) …"confused yet?"…don't be…the next one is a "NO BRAINER"
…no, seriously…I "mean" it…now just sit back and let me work this out…
#9) Taylor Swift 
She has an angelic presence and a voice to match.
So how could I, in all good conscience, have anything negative to say about "America's Sweetheart"?
 Funny you should've asked…First of all…we should probably set the record straight. When it comes to my scathing critiques of CELEBRITIES and CELEBRITY LIFESTYLES, I have no conscience…and "why" should I? They "chose" what they do for a living…But make no mistake, "I" had absolutely NO say in the matter. …I wish I didn't need to point it out (yet somebody needs to) America's track-record for "taking a shine" to CELEBRITIES lends itself to me "Not Liking Many of Them" on a fairly consistent basis. The public's fascination with ALL THINGS CELEBRITY  inevitably and irrevocably can often lead (the Celeb) down the road to ruins, known in our world as
supersaturation
[soo-per-sach-uh-rey-shun] 
n the addition to or presence of an ingredient in a solution in greater quantity than the solvent can permanently take up…
…in this case the
"general public"
makes up
"the solution"
<insert own joke here>
and
Miss Swift
plays the part of the
"ingredient"
… suffice it to say, the
media
will be playing the part of the
"stirring stick thingy"
and
"all of mankind"
, will be reprising its role as
"a petri dish"
…
I'm
the
"mad scientist"
,
you're
the
"control subject"
…uhm…I think you are getting the picture.
I have officially had my "fill" of Taylor Swift…she has been offered up to me via the Entertainment Industry, Mass Retail Marketing and my youngest daughter in such a way, that there is no more room in my brain for her to permanently "reside". Now, one might think that there is AMPLE room in my noggin to house plenty of "Cerebral Clutter" (possibly, even room to add a guest house). I do seem to know an awful lot about Star Wars Trivia and I can figure out most of the puzzles on "Wheel of Fortune" before a 2nd grader (again, my youngest) can…
(to "me"

much

funnier than that

Seven Swans a Swimmin'

fiasco) 
 …upon further review, you might be right. However, I have been working on reducing the amount of my mind that up until about 5 minutes ago, when I started writing this, had been used to store things that
"Make me Wanna' be Amish"
.
Here…let's pay a visit to my favorite little Lancaster Pennsylvanian community and see how unaffected they are:
Isaac:

Hey Jebediah!…Jebediah, Wait up! Where are you off to in such a bustle? We are expected at the Yoder family's home for a barn raising at dawn. I was going to ask if  you could lend me the use of your work galluses…I'd be a might embarrassed if the young and pure of virtue, parson's daughter; 
Elizabeth Yoder, saw me raising a beam and caught a glimpse of my undertrousers…Can you help me out?…Hey JEBEDIAH!
Jebediah:

Screw you bro! I'm done with your backwoods ways!…I just listened to this "music" on something called a Compact Disc Player!…It was by some chick called Taylor Swift!…Man, she sounds like and angel, but dude…you can just tell in her voice…SHE WANTS IT!
Isaac:

But Jebediah!…What about your family?!…What about your betrothed, Charity?!…What about the group?!…What about…wha…whoa…is that her? (pointing at her picture on the CD case…and noticeably "jostled") Let me SEE that!
Jebediah:

Back off Isaac!…Walk in to town and find your own!…I'm trackin' this 'ho down no matter WHAT it takes…and then I'm gonna' tap that "Six Ways To Secular"…She's gonna' see me "raisin' a beam"…you can bank on that homefry!
…well, this is a little embarrassing……. never mind the "Amish" thing now…seems they've been infiltrated…
SUPERSATURATION
, people…If it isn't her; it's an Adele, a Nicki, a Scarlett, a Kardashian, a Lohan, a 
Beyoncé
, a Bieber, a Brittany (or Britney – take your pick) …a blah, blah, blah, blah, blah…and "yes", I grouped Bieber with a bunch of "girls"…
…Don't get me wrong.
(too late)
I understand the public outcry in September 2009, when a then young, naive songstress in the early stages of a burgeoning career was belittled, embarrassed and savagely victimized by the remarks of a truly
"Thugariffic"
, Kanye West (just embarking on the early stages of being a colossal
dumbass
) at the
VMA awards
… (don't worry, I'll get to him in a minute)
…Please understand
(or DON'T)
I know why we had to rally around the little fairy princess. I get it. What I never "did" quite understand, however, was why the
President of the United States
had to come forward on behalf of Taylor Swift and let his thoughts be known on the subject. To me that's kind of like the government's involvement in professional athletics. WHO CARES if someone used performance enhancing drugs to win a baseball game or some bike races? Isn't that a double standard? Seems to me we'd be having a lot fewer problems in Washington if politicians weren't getting a hold of some
performance enhancing drugs
, themselves…
…Why does the government get involved in
ENTERTAINMENT
?
I suppose it's all just part of the
Three Ring Circus
now. The lines are so blurred between politics,  professional athletics and entertainment (that) someone needs to govern them all. Why not "Barry"? He certainly didn't seem to have anything better to do, right? But that's all water under the bridge now, isn't it?
Incidentally, I believe
"Water Under The Bridge"
is the new Taylor Swift single now available for download on iTunes…I hear the lyrics are pretty much in line with EVERY single song she's ever released, but to her credit this one has a
"twist"
…In
this
one the lover who scorned her gets
drowned
at the end.
…oh, and I think she's "goofy"-lookin'… (again…looks are not "directly" related to why I "do" or "don't" like people…I like all SORTS of people that are kind of
effed-up-looking
…It just doesn't help when you are being billed as some sort of  'sex symbol' and you look like one of
DR. TEETH'S BANDMATES
).
 Don't get me wrong (you've already made that determination)…In terms of Muppets being "sexy", Janice certainly had a leg up on her competition…
 But "Miss Swift" isn't a Muppet…as far as you "know"…
…I understand that the chances of her getting caught up in some sort of "scandal" as a result of her being anything but a pure, innocent, man-hating cross-over star are pretty miniscule…but never say "never"…I remember when I thought Tiger Woods was a decent "role model"….oh, and for someone not wanting to give her any more "exposure", I just used up about 1000 perfectly good words to tell you why I don't like her too much…Maybe I could be a lyricist too…
…NEXT!…
#8) Rihanna
It starts as so many other stories do…In 2003, a 16 year old girl from Barbados is struggling as a clothing peddler under the expert tutelage of her crack-addicted father and decides she's had enough of her Barbadian-Bad Dad. She strikes out for the good old U.S. of A, 'cuz she hears that in America, they've  just passed a law "Prohibiting" men from exploiting young women. She is told of this breakthrough law in women's rights, by record producer Evan Rogers who "discovers" her while vacationing with his wife and being a really creepy dude that checks out little girls while on vacation with his wife. He promptly invites Rihanna to the U.S. to help her begin her career and make her a bunch of money…But first, Evan (douche name) invites Rihanna to his hotel room for an impromptu "tryout" where, according to WIKIPEDIA (the only reliable source of information on the "interweb"), Rogers is thoroughly impressed with her abilities…the "singing" ones…in his "hotel room"…uhm. okay. (I'm thinking while he was giving the "underage girl" her "tryout", that Mr. Rogers' (nice alias, pal) wife was 'taking a powder' or otherwise "indisposed")
(nice 'stache)
Okay, this is all very creepy to me…so let's fast forward > > > About a week and a half after landing here (where is Barbados, again?)…Okay, it's in the Caribbean somewhere…I had to double-check, so I didn't sound "stupid"… (shut up) Rihanna meets Jay-Z. Things happen. (She's still "underage", mind you) "Deals" are made and a career is started. Rumors have been widely circulated over the years (all 7 of them) of Rihanna's relationships with various industry insiders, but for the record, I am not saying anything about "those". She made her bed… …None of this is Rihanna's fault…right?…It's most certainly, not a reason for me to dislike her. I mean, she's  a Celebrity who's risen from adversity to "make a name" for herself"…Yeah, I get that…but, I'm not done…And by the way, how many "stories" do you need to hear about a "Celebrity" being homeless or living out of the back of a Ford Fiesta for 3 years, before you start thinking: "Wow, Celebrities should be viewed as 'God-Like'! Just LOOK at all of the obstacles they've had to overcome and hardships they've had to endure!"… ZERO…I need to hear ZERO more of those stories……and a Ford Fiesta is a LOT roomier than people think. So let's skip to February, 2009… Everybody "knows" the story…If you don't, you have probably been living under that proverbial "rock" or…you are "ME"… Yes, I'll be honest, in placing Rihanna on my roster this year, I am probably one of the "few" who don't know all the details about the night that singer, rapper, actor, thug and "not-so-alleged anymore" woman-beater, Chris Brown decided to beat Rihanna up… Okay, we're fast-forwarding again > > > WHY? Because, I don't really have a whole lot of tolerance for domestic violence. I have even "less" tolerance for people who have the opportunity to break free from the cycle of violence (whether it's physical OR emotional) and do any one of these 3 things:
Piss it all away

Look like a complete fool and trash the opportunity they've been "given" to break free, by staying in the same situation or becoming involved in one that is potentially worse.
Piss it all away, while looking like a

complete fool

and trashing the opportunity they've been given ONLY to turn around and do it over, and over and over and over…
(does this seem "normal" to anyone?)
The second that Chris Brown laid his hands on Rihanna, she should have left him and never looked back. If Chris Brown were on fire (he's not, though the people that listen to his music "think" he is) she shouldn't have offered him the cup of piss to extinguish the flames…But she has, she did and at last check, she must be pissing all over him. Since "the event" in 2009, she's left him, taken him back, gone on Oprah to say how hard it was "quittin' him", yada-yada, blah, blah
*pukey sound*
. I have heard that statistically, it's difficult for women (or men) in an abusive relationship to
"walk away"
. But when you have the "means" to not only "walk away", but
"drive away"
and do it in
"style"
, I start having a problem with the scenario. She is stupid. She
"oozes"
stupid. No amount of crying or sharing her sob story with OPRAH will change that.
 Oprah "lives" for "You Go, Girlfriend!" moments. I was unfortunate enough to have watched her sit down with Lady "O' My God, I'm So Effing Rich, No Way I Can Lose, All I Do Is
WIN
frey"…and all I kept thinking was, "I wonder if Jesse James cried when Sandra Bullock kicked him in the nuts?"
Sandra Bullock…now
that's
a woman who wouldn't take anyone's
s***
…
 Yes, I understand that Sandra Bullock wasn't a "battered" woman, but her ego sure took a beating… Kat Von D was/is a
"SKANK"
…
(btw…how that end up working out for Jesse?)
(just another face in the crowd…flyin' "solo"…nice)
As for Rihanna? She'll keep taking it and going back for more…Last thing I heard, she and Mr. Brown were "vacationing" together in Europe partying, boozing and carousing with the best strippers that Paris has to offer… (not sure if they mean Paris Hilton or not) She's still young, but is starting to look pretty "used up".
…and now…baby rumors…Rihanna, as a CELEBRITY is "SCARY", alright…But what happens next?…maybe even more so…
…Rihanna…If I could offer you "one" bit of advice (I can't) it would be this: "Become Friends With Sandra Bullock"…"or look into buying a Ford Fiesta"…
But hey…it's your funeral…
#7) Jeff Dunham
…and speaking of "dead to me"… if you were to ask me what comedic act out there today was my absolute LEAST favorite, I'd undoubtedly say, "Bob Saget". Then you would say, "Bob Saget is your LEAST favorite comedic act?…what about Jeff Dunham?" So, I'd reply, "Jeff Dunham? I thought we were talking 'Comedy', isn't he that REALLY frickin' annoying Ventriloquist?"
Then you'd invariably get into your "Official Jeff Dunham Fan Club President" attack stance and respond by saying,
"What about Achmed? Ya' know?…I KEEL YOU!…"
I look at you stoically…
"Oh MAN! He is SOOOOO Funny! SILENCE!…I KEEL you…ha…oh, man…that's some good stuff"
I look at my feet and then back to you, knowingly…and with heightened awareness of just "where" this might be going. I shake my head with disappointment. You notice that I have no plans on becoming a member of your Jeffrey Dunham Admiration Society.
"…I KEEL YOU!?…ha…ha", your voice softening a bit, "That bit is priceless…" your voice trailing off. You notice my vacant stare.
You feel my eyes boring through your very core and you start to sweat a little. It feels as if thousands of little tiny pins are pricking the back of your neck…You feel isolated and alone.
"Ka-ka-keel you…uh…", almost whimpering now, "…uhm…it was on Comedy Central…I think"…
You slowly lower your head, rethinking the hours you've spent watching him perform his "comedy" specials to scores of the elderly and differently-abled who really seem to love him.
"But what about 'Walter'?", you ask me, looking for some sort of recognition in a last ditch effort to gain my approval. I look away, so as not to embarrass you any further.
But, I've seen this before and so I slowly put a reassuring arm around your shoulder…
"What about…." as you begin to weep….
"Shhhh," I say softly…It's almost over now…you'll be okay.
…and you will…be "okay", I mean…as for Jeff Dunham's career?…he made my "roster"…
Then suddenly… you bolt upright, as if energized by a force not of this world, "TERRY FATOR!", you scream, nearly knocking me off my feet…"HA! HA! You can't say HE isn't funny!"
Startled and reeling, I slowly back away from you. You stare at me with a crazed, wild gleam in your eyes. It dawns on me that this might have been the "plan" all along…Your sick, perverse and demented little plan. The old "Bait and Switch" (It didn't have to be this way)
But what you didn't know, is that I was ready for this…I always take extra "preemptive" measures when I know that there's a chance I may be involved in a potential "Pro-Ventriloquist" environment. I knew last month, when I applied for my handgun permit…
"You didn't know that did you?", I ask but you don't seem to hear me, in your exuberance to profess your love for "THE DARLING OF LAS VEGAS, Mr. TERRY FATOR". (this saddens me)
"You know Terry Fator, right?!", you ask, now even more excited than you were just moments before, "Oh, my God! Terry Fator is HILARIOUS! He won the first America's Got Talent, ya' know…I mean, Dunham is okay, but FATOR…WOW, what a talented…"
"BLAM! BLAM!"
…Oops…I seem to have just shot you in the face……twice.
"I hate ventriloquists", I say cooly, wiping the prints off the gun and placing it in your lifeless hand, "Might as well be Carrot Top or Gallagher…Damn Prop Comics."
As I walk away, I turn around and smile…
"Oh…I get it NOW…"
On a personal note (because, with me, it's always "personal") the aforementioned act of violence that just played out was purely in the fantastical realm of hypotheticals… As stated earlier, I don't condone violence. I also don't own a gun…I have no interest in owning one and if you were paying attention, just now, you know "why". I don't "suffer" from a "personality disorder" other, than those possessed by someone who doesn't like puppet shows. What just played out above is just pause for thought…Because a gun in the hands of someone who considers ventriloquist acts to be one of the LEAST enjoyable ways to be entertained, can be a "volatile" combination, to say the least. I'd also like to add that I have a "fear" of ventriloquist dummies stemming from a Twilight Zone Episode, I saw as a youth…and I don't like clowns….Okay, we good?…then moving on…
#6) Kirstie       Alley
It would be safe to say that, historically, there is no love lost between members of the Scientology Community and myself. I have gone on the record as saying that they are, a bunch of  "Weirdos" and that I think the majority of current CELEBRITY Scientologists either:
Met each other on the set of "Look Who's Talking"

Have had someone killed

Met each other on the set of "Battlefield Earth"

Are going to have someone killed

Have died at the box office, but cling to their faith, because Scientology teaches that as a Superior Life Force they are divinely entitled to

"win some…and lose some"

…except, when planning and executing a

"professional hit"


As far as I know, definitively, the actress Kirstie Alley can include
at least
two
of the items listed above on her resume…I'll let "you" choose
which
two, because I don't want to get sued by anybody. By the way, it is a resume that boasts…well, she…uhm…
…just a second, I'll think of something…
"OH…she was on
'CHEERS'
!…and that
talking baby movie
with that Scientologist who was on
Grease
,
Pulp Fiction
and now
really
likes to get
massages
!"
But you know something "ELSE" about Kirstie Alley? She's a BIG TALKER!…(pun intended)
While I won't go so far as to say Ms. Alley has "killed" anyone, I WILL go out on a limb and call her a "KILLER".
Let me "qualify" that statement…She single-handedly "murdered" her own career…and on more than one occasion…Which by definition, makes her a "Mass Murderer", doesn't it?
Now let me "quantify" that statement…I think it would be safe to say that Kirstie Alley wouldn't have any qualms about "killing" an entire slab of ribs, a chicken dinner, two cheeseburgers, a vanilla shake and an entire Red Velvet cake…in ONE SITTING…I'm comfortable enough to make that statement and consider it 100% truthful. She could do it in ONE SITTING because, by the looks of it, she rarely gets off of the couch.
In fact, I think the only couch she loves more than the one she can barely peel her ass off of at home, is that of my FAVORITE CELEB and one of my "Original Roster Members":
OPRAH
(again, with the Oprah?)
I don't care about Kirstie Alley…I have no desire to know what "Weight Loss Program" has decided to hire then fire her as their
spokesmonster
. I don't care to see her on Oprah, "flaunting" her NEW, IMPROVED
"Bikini Bod"
.
Which, incidentally, happened two years ago and STILL makes me a little
nauseous
 upon viewing…and I don't even
mind
me a "thick" girl. To be honest, with her, the nausea was more than likely attributed to the combination of "That Bod" with "That Face".
…Give it up girlfriend…It's been over  since the early 90's.
But lately, on her whirlwind "Fat-Chewing Tour" (eating and talking, talking and eating) She really seems to like to talk a LOT about all of the former "Loves of her Life"… including, but not limited to "Boston Creme Pie".
(technically, still a

"current"

love of her life)
Does ANYONE care?…The only thing I care enough about in all of this, is the fact that TOO MUCH TIME is being devoted to giving her life any amount of exposure in the media. So, she had a crush on Patrick Swayze…So did A TON of other ladies
(meaning, more than just Kirstie, weighing in at just "under" a half ton)
…and several "dudes". Maybe that's why she and Travolta get along so swimmingly…all that "Girl Chat"…But can we exercise a little cooth, Kirstie? Dude's dead. Can you let him Rest In Peace, without dragging his name through the
beef gravy
? Yeah, some people are interested in some of the things you have to say…They are called the "mentally-ill"…By and large, I'm thinking there are a LOT more of us out here that would just like you to "Go Away"…By "out there", I mean those not being housed in mental institutions or whose psychiatric medications have been recently reduced to one or two pills daily and not that "cocktail" we…uhm, I mean "they" used to have to take, just to "Calm the VOICES"… (incidentally, now down to just "one")
…That would go a whole lot better, if she'd just shut the hell up…
NEXT!
#5)Jerry Jones
…So what's with all of the talk of "death" in this year's installation of my "roster"?…Seems a little on the "dark" side as opposed to my previous efforts… Well, I guess I'm a little more "pissed" this year, than I have been in years gone by…But, it's not because I "choose" to be…In fact, I haven't really been given much of a choice at all. People do stuff that pisses me off. I have "feelings" about those things. Then I express said "feelings". It "used" to be, that during this time of year…A time of year which can usually be associated with "The Holiday Blues", I could count on ONE THING to lift my spirits:
The Dallas Cowboys
Now at the risk of scaring off the few of you left actually reading this year's "contribution", I am going to shift gears. No, I won't be talking "NASCAR". Auto racing is not a "sport". It is a way of getting from one place to another. Much the way jogging, running, motocross, motorcross, speedboating and swimming are not sports. They are all modes of "transportation". From "A" to "B". I have been in the transportation industry for the last half-decade, and though I no longer "drive for a living", I'd have to say that at the end of the work day, I don't feel like I have "won" anything. Just like NASCAR, I go round and round and yet seemingly go "nowhere". But…"Football"…that's a "SPORT"…at least it used to be…Until Jerry Jones got involved…
For those of you who are not aware of who Jerry Jones "is", I will fill you in on the "skinny"…For those of you who don't know what Jerry Jones "represents", I will tell you what "I" think and let you make your own decision; based solely on the information that I provide you with…Because as you are probably well aware of by now; what I don't "Know to be 100% TRUE", I certainly make up for in "Convincing Myself That I'm RIGHT".
I also know that this isn't a "Sports Site". For lack of a better word, it is (sometimes) an "Entertainment Site" (not to be confused with "entertaining" site…but then again, it's not really all that confusing). However, one could argue that nowadays "Professional Sports" and "Entertainment" are practically synonymous.
Enter one, Jerral Wayne Jones, Sr. Never mind that his name sounds like that of a serial killer. "Jerry" Jones purchased the Dallas Cowboys in 1989 – in a deal brokered at a gentlemen's club in El Paso, Texas – for fifteen thousand dollars and a half-used pouch of Red Man Chewing Tobacco…wait, that's not right…Well, I don't have the number right in front of me, so let's just call that a "ballpark" figure.

Known as a "shrewd" business man (sports lingo for: a conniving butthole) one of Jerry's first moves as owner, was to fire long-time coach and all-around good guy Tom "Do I wear this hat or Do I WEAR This Hat" Landry.
This not only shocked the Football World it even angered longtime Cowboys fan and fictional character Hank Hill, as evidenced below:
Oops…wrong clip…but, she is EVERYWHERE…
So, the Landry thing happened…Then he hired a few of his "buddies" to coach the team. They won a few Super Bowls. Life as a Cowboy fan was good.
Then he fired a couple of his buddies. Life as a Cowboy fan was "not" so good.
So, as of press, the Cowboys are having a mediocre season. The team is mediocre. But Jerry Jones, has built up his "Evil Empire". He has built the most expensive stadium in NFL history, funded exclusively by Mexican Drug Cartel money. (that might not really be true) and is now not using the stadium to "Win Football Games"…No, no, no…
Remember, as I said, he's a "shrewd" business man. For instance, just a few weeks ago, before a Cowboy's home game, he unveiled a new "Victoria's Secret Store" just before kickoff. Much to the chagrin of really drunk football fans, who were confused and suffered sensory overload. You see, not only do the Cowboys boast their World Famous Cheerleaders, but for a couple years now, they've also offered "Pole Dancers". With the addition of the new "Panty" store, the drunk and horny fans can barely keep their minds on the "games". Which, now that I think about it, might be just the diversion Dallas fans need, to get their minds off of all of that darn "losing".
Jerry Jones is to the sport of football, what Vince McMahon was to football. At least Vince doesn't hide being a sleazeball…He LIVES for it. So does Jerry…but he does it from the "Owner's Box"…and whenever they show him during a game, you can never see his "hands"… that makes me "nervous"…Well, there was that "once"…
…All "Class" Jerry…All "CLASS"
#4) Nicki Minaj
Onika Tanya Maraj, better known to most of us as "Freak-Nasty Booty Bumpin' Skank"…just a sec……..
….I always get that wrong. I guess most up us know her as "Nicki Minaj". Anyway, she makes the roster this year based solely on the fact that I cannot STAND the woman…But not being one to base my feelings about an "artist" blindly on first and lingering impressions of the way that "artist" seems to consistently make a complete ASS out of themselves, I thought I'd dig a "little" deeper into Nicki's bio…By doing my due diligence in researching "why" she annoys me so, I thought I might present a better argument as to just how "SCARY" this chick is, not just a CELEBRITY, but as a a "FREAK-NASTY Booty Bumpin' Skank".
Here is a couple of things I discovered, which only seem to have reinforced my initial impressions of the girl:
She got her start, in large part, by being "discovered" on "MySpace". Can't say that I totally dislike the idea of someone using the internet to gain some notoriety, but I have noticed a common "thread" with some of those on the list of YouTube and MySpace "Glory Mongers" of the recent past.
…Here is a list of "others" that share that "dis -stink-shun":
George Lindell (with his breakout hit single, "Reality Hits You Hard Bro")
Justin Bieber (I don't really need to explain why I don't like him, do I?)
Soulja Boy (ditto)
Susan Boyle (I stillhate her cat…and it's been dead a while now)
Taylor Swift (see above)
Lucas "Fred" Cruikshank (only redeeming quality: his "dad" is John Cena)
Antoine Dotson (funny the first 100 times…after a million or so?…not so much)
Daym Drops (He tried too hard, knowing Schmoyoho would songify him, thus negating any "true" legitimacy as an entertainer…It's the same reason I couldn't listen or watch Kanye West in a dress at the 12/12/12 benefit concert…TOO CONTRIVED)
Keenan Cahill (SO ugly…doesn't even sing and then gets rewarded by meeting Katy Perry AND Jennifer Aniston because of his "considerable talent")
Nicki Minaj (still don't like her and to be honest my "research" is just making me think of "other stuff" that pisses me off)
By the way, with the exception of the "Creepy Song" list below, this is the only "list" I've got left in me this year…It was compiled with the CELEB I find "least" tolerable at the top…to the "VERY LEAST tolerable" at the bottom. As you can plainly see, I still ain't fond of Darlin' Nicki…and these other putzes annoy the HELL out of me. The common thread among those on this list, is a staggering lack of "longevity".
She is a CELEBRITY "Knock-Off"…just like Ke$ha
With all of her "flash and bravado" she seems to be trying to imitate being "unique". In and of itself, that only  proves to make her "decidedly unoriginal"…at least in "my" book…which by the looks and length of what you are now reading…would be "this". I've heard the same said about Gaga, which I would argue to be far from the truth. I would classify Minaj (whose last name, again, is "Maraj") as just that…a "mirage".
Definition:

mi·rage  /məˈräZH/

 Something that appears real or possible but is not
…yep that seems about right.
But it's funny
(in a sad way)
even with all the "smoke and mirrors", I still find the stench of her "SKANALICIOUSNESS" overwhelming and her "lack of talent" underwhelming…If you can't cut it, as entertainer without what you were given when you were born, then I don't find you "entertaining". If you have to act bat s*** crazy, do get attention, then I don't want to "see you"…If you have to act a fool in order that people listen to you, then I don't want to "hear" you. If you are going to proclaim yourself a "Diva" and proceed to talk trash about those that paved the way for your lucky ass to have the opportunity that you have…
…well, then I can't stomach you…and Chelsea Handler has never made my roster ONLY because I can't waste a whole segment on her…
Throw into that the fact she is just plain "obnoxious" and you've got my reasons for her making the roster. In the end, I should've just stuck with my "gut". 'Cuz this chick makes me sick…
…Oh, Speaking of SICK (segue, anyone?) That leads me to our potential "Scary Celebrity Hall of Famer"…
To be perfectly honest (and at this point, haven't I been…Like, "brutally"?) How is it possible for me to say "anything" about Kanye West that would influence you one way or the other about how COLLOSAL a DOUCHEBAG this guy is? There's one thing for certain. It is an indisputable fact that Kanye indeed has his fans out there…I don't know "how" and I certainly have no desire in knowing "why". But the fact remains, there are some loyalists out there that think Mr. West has a message to send and are more than willing to shell out money that I suspect they receive, in some illegal fashion, to buy concert tickets and music downloads.
In researching his unexplainable success, I did however notice a fairly odd trend…
Kanye's music single sales, after the release of each one, seems to max out around 4,000,000 sold/downloaded. Never more, never less. The only thing that I can make out of this "coincidence" is that he is either spending the $4 million he receives upfront for recording each of his albums on downloading his own music OR (and probably more likely) he has a group of 4,000,000 people that actually (swallow hard) "LIKE" what he does.
So what I decided to do was break that down in terms of "NUMBERS"…
The Population of the WORLD usually hangs around 7.6 Billion inhabitants
Lets say Kanye's next single does remarkably well and sells around 4.5 million copies
Therefore, only about 0.6% of the world either likes or is being exposed to his "music" at any given time.
…"That"…I can live with…"statistically".
Where the problem lies is when someone with no knowledge of his history or just some COMPLETE DUMBASS invites him to Award Shows or Benefit Concerts for Hurricane Disaster Relief. That means that his audience size has just "increased", thereby increasing the chances of someone inadvertently being exposed to something coming out of his mouth. Whether it be "words" or "words set to something with a beat", the results are usually not pretty. Unless, you are one of the 0.6%…then, I guess you're having a "pretty good time".
…But, just like everything else in this world, I knew there HAD to be something deeper going on with this issue. It finally came to me, when I started looking into some "other" numbers.
The National Institute of Mental Health recently released the numbers for the percentage of mentally ill in relation to our World's Population.
They have stated that it is estimated that World-Wide there are around 25 million people suffering from some sort of mental illness at any given time.
That is about 3 and a half percent (you get where I'm going with this?)
In the U.S. our National average is considerably "higher" (at right around 6% on any given day)
3% of Americans (1 in 142 have been to "prison")
9% of Americans are Millionaires
Less than 0% of "Me" likes Kanye West
 MY CONCLUSION?
He's holding on to a small percentage of fans, statistically, who have either been incarcerated, are CELEBRITY buddies of his or are MENTALLY ILL… or any combination of the 3…and out of "that" small percentage, it still means that there are plenty of CRAZY people out there still not even
"Crazy Enough"
to like his crap either.
…Well, numbers don't lie…
 …and aren't you impressed that I was able to totally bag on this dude without even ONCE mentioning that he's now "wormed" his way into and is a part of one of the worst plights to have ever befallen this nation…the KARDASHIANS? Well, he's worming one in particular.
…and
Baby makes 3?
…More baby rumors…but it'll be more like
Baby makes

3 MILLION
for a mom/baby photo spread in
"PEOPLE"
…
…oops…there went the college fund…
#2) Christina Aguillera
THIS one actually breaks my heart a little…If I had a heart that is…
For a very long time, I thought a lot of Christina Aguilera.
No, not always like "that"…I actually held her in high regard as a musical performer and entertainer… Seriously…But to have bare witness (as we all have) to one of the most tragic declines of someone's self-esteem, physical appearance and musical ability in recent memory, I'd have to say that citing Christina for a blatant and obvious lack of personal hygiene and her apparent and way too casual "Mom Jeans" attitude about life has secured her position in the #2 spot this year.
did I say #2?… May have been #1 (or worse)
This is meant to be served to her as my own personal "Wake Up Call". Though this will more than likely never be seen or read by the former enchantress. Even in the unlikely event that someone is able to tear her away from the craft table on the set of her really annoying new gig, "THE VOICE" or intercept the delivery of 25 Holiday Honey-Baked Hams that are being delivered to her dressing room at this very moment, I'm afraid that the "call to action" I am leveling would be viewed by her and her "handlers" (by which, I mean "handlers". like at the zoo) as "just more FAT JOKES". When in actuality that couldn't be further from the truth. I am sincerely saddened and feel a tremendous sense of urgency in getting Christina the word that she has indeed, "REALLY let herself go". Alas, I'm afraid that my heartfelt warnings and wishes would merely fall upon deaf (and really chubby-lobed) ears.
First, there was the "Fail":
Then, there was the "Fall":
Now, she does "this" with "these guys":
…which deeply saddens me…
In addition to spending time covering other people's songs, she also dispenses advice to wannabe singers, whose names no one will remember a month from now. I'm not sure if any of you watch "The Voice". Out of morbid curiosity, I did for the first season or so. But I started getting a little turned off when I noticed Christina starting to make "googly" eyes at some of the contestants. Adam Levine (who was close to making the roster this year) even teases her about her "liking" some of the competitors in "more" than a mentor/student capacity…To see this once, astonishingly attractive and assertive woman be reduced to perusing the dating scene at the local Applebee's seems more than a little depressing to me.
(don't "assume" this was Halloween)
…I really hope Christina mounts a "comeback", but I have a feeling the only thing she's going to be mounting any time soon is  that stupid spinning red barcalounger and maybe contestant #7, "Jack" a bartender and "sometimes DeeJay" from Toledo…I here someone spotted them at a Bennigan's.
and finally (bet you thought this'd NEVER end)
#1) Honey Boo Boo's "Mom"…Mother Boo Boo
To say that I am thoroughly "disgusted" by June "Jabba" Shannon would be an understatement.
…and while those of you still actually "reading" this year's installment, may have made up your mind, that my dislike of a lot of these CELEBRITIES is based on shallow or superficial reasoning. I would refute that, by stating that these people "chose" to be in the spotlight. So they have invited me to form my opinions of them based on what they publicly choose to display…publicly. I would even go so far as to say that CELEBRITY itself is no longer reserved for anyone with outstanding qualities or extraordinary skills. In fact, I think that the moniker is now dolled out with a blatant disregard for reasoning or any kind of forethought. The choice is made without ANY sort of determination based on talent (but instead, lack thereof) and it is MOST DEFINITELY not based by any sort of physical fitness standards or athletic achievement. Unless she somehow beat out that Skinny Asian Kid for most hot dogs eaten…
…but it is rumored she actually just ate the Skinny Asian Kid. (Takeru Kobayashi…anyone seen him lately?) I'm no doctor, so I can't honestly say I understand "glandular disorders", but I think I know a big, lazy opportunist when I see one.
Case in Point: THIS FAT ASS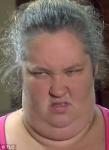 I have expressed my displeasure in the past about Child Beauty Pageants and about TLC…The network that is fast becoming the least "Family-Friendly" option on television, in terms of programming. Second only (and somewhat ironically to ABC "Family")…
I'm not going to pretend to have a wealth of knowledge in family dynamics,  nor do I claim to know the best way to raise your kids. Heaven knows I'm doing the best I can myself. But I sure as hell can tell you what doesn't look "healthy". I'm thinking that parading your prepubescent daughters out in front of a bunch of creepy strangers, in skimpy little outfits to be "judged", seems a little on the "disturbing" side to me. I am not going to mention "Honey Boo Boo" much, because can I really blame a "child's" behavior on her, when it's how she was taught and encouraged to behave?
No…the onus for raising a girl to be a "lady" falls squarely on the shoulders of the parents. And oft' times, fair or not, it is the mother's responsibility to help shape and mold her daughter into the young woman she will become…Well, Mother Boo Boo is certainly helping to "shape" her alright…looks to be kind of cantaloupe-shaped. Please understand that I don't have a problem with "overweight" people. But I DO have a problem with people who don't want to do anything about it.
But that is not what's at the heart of why I have no tolerance for this woman. My problem with her stems from her "Celebrity" status…Every year that I've released this "list" (okay, you got me…it's a flippin' list…happy now?) I've tried not to include "Reality TV Personalities".  Part of the reason, is because so often their fame is "fleeting". They are in the public eye for such a short amount of time, that it doesn't seem worth mentioning them. Because their "relevance" is so insignificant. Unfortunately, we are starting to see some of these "Reality Stars" stick around for a while. Let it be known, I DO NOT think that Mother Boo Boo or her "kin" will be among those. However, I guess this year I am using her in the "Top Spot" as an example of how far we seem to continue to fall in terms of what we find "Entertaining"…THIS is how CELEBRITY is "Scary"…

I have only seen "Toddlers and Tiaras" a few times. I have never seen "Here Comes Honey Boo Boo". But I have seen clips. It looks like the exploitation doesn't end with just Honey Boo Boo. Looks to me as if Mother Boo Boo has invited cameras into her home to make a fool out of a bunch of  "Differently-abled" family members. I'll bet these guys LOVE Jeff Dunham…
The sad truth is, it looks like she's enjoying being the "ringleader" of the demise of quality television. Sure there are people out there watching this crap. A LOT of people, by the sound of it. But if I'm right (I usually am) these are probably the same people that used to watch Jon and Kate plus 8…and that watch the Kardashians. It's just watching the upper crust and the underbelly of society. Polar Opposites?…I'd say they're a lot more alike than we know…and THAT my "friends"…is truly "SCARY"…

The Mayans may have been wrong about that whole 12/21/12 thing, but "THE END" certainly appears to be drawing near…
 (seems like they keep getting those kids younger and younger every year…doesn't it?)
 …And if THAT doesn't creep you out…nothing says "THE END" like CREEPY SONGS…am I right? Maybe not but there was no real good transition to be made here…
You will certainly recognize those on the list this year…Rather than limit myself to "The Year that Was", however, I went a little further back (in some cases a LOT further) to come up with some of the tunes that I find a touch "freaky"…and here they are…ENJOY!
This Year's:
10 Creepy Songs
#10) foo fighters-"These Days"
I like Dave Grohl…In fact, in some of the earlier Foo Fighters videos, he really showed a fun side and a good sense of humor; harkening back to some of the 80's and 90's music videos. (back before MTV turned into whatever the hell it is now) Unfortunately, it seems as if Dave has started exploring his "darker" side. This was clearly and predominately on display for God and everyone to see, when he played the recent "One Song NIRVANA Reunion" (with Sir Paul McCartney) at the 12/12/12 Benefit for Hurricane Sandy Relief. To which I would only say, if they wanted to "benefit" anyone, they might not have wanted to do what they did…It was horrible in every sense of the word.
However, as far as the almighty "Fighters of the Foo" go, they still rock pretty hard. In one of their last singles, before going on "hiatus", Dave and the Boys treated us to one of the least "uplifting" of their efforts. Though it may have been disguised as "uplifting", it did little more than make it a little harder to "unwind". After a long day at work, I found it a little disconcerting to think Dave and Crew were presumptuous enough to think that not only had my mind NOT been stolen, but my body had also NOT YET been broken…NEWSFLASH DAVE!…Those things happen to me on a daily basis…and usually before I go to LUNCH! In the end it is Mr. Grohl who offers some more words of encouragement by reassuring us that  one of these days the world will indeed "END"…Thanks Dave…you're number 10, cuz that is sufficiently "Creepy" (and mildly annoying enough) in my book to make this year's "LIST":
#9) SilverSun Pickups – "The Pit"
The lead singer of Silversun Pickups, sounds an awful lot like what I think Maurice Gibb sounds like as a dead member of the Bee Gees…I apologize to anyone that thinks that is an indictment of the Bee Gees talents. Perhaps, I should have said the "ghost" of Maurice Gibb…but that wouldn't have really captured what I meant…I liked the Bee Gees…I really liked Maurice, I suppose…But this wasn't supposed to be about the Bee Gees anyway. I'm talking about the Silversun Pickups…Man, I really stick my foot in it sometimes don't I?
I like the Silversun Pickups too (I think) They have a very "distinct" sound. (As you may have been told already) Their first real "breakout" hit was "Panic Switch" . They had a couple of songs after that, but to be honest, I thought they were going to fade away because the songs basically sucked. But then, I heard "this" little number, which in essence, kind of sounds like a "sequel" to that Panic thing. No, I'm not a music critic, I like what I like and the middle songs were basically a bunch of crap, okay? Dang it…mention a dead Bee Gee and people get all "sensitive".
Anyway, here's their song…it's creepy…even if the chick in the band looks like "Flo" from the Progressive Insurance commercials:
#8)  The Police – "Every Breath You Take"
 I don't think "The Police" ever played Letterman, but they "did" have a "creepy" song…I'm pretty sure, that all of you have heard the "back story" on this little ditty. But if you are one of the few that "haven't", then here's a brief rundown:
The singer of "The Police" (also known as "Sting" something-or-other) used to stalk his wife or something. He wrote a song about stalking his wife…who used to be a student of his…because before he became a singer with a band called, "The Police", he was a teacher of students…that he stood "very" close to…making him very creepy. So, I think I pretty much covered everything that you need to know…Here's the song:
#7)Shinedown – ".45"
I don't know much about this group, to be honest…However, this song is slightly "disturbing" and if one is already close to making the decision whether or not to take their own life, I'd say you might want to steer clear from this song. Unless you want to join Maurice Gibb's brother Andy (who died of an alleged drug overdose in the late 80's, but who also dated Olivia Newton John, who was linked in some sort of "thing" to Scientologist John Travolta, who in turn has probably seen Kirstie Alley naked at some point…and NO ONE NEEDS THAT) So, anyway…
Here's the song…It creeps me out enough to make this year's list…now don't go and do something "stupid":
#6) Tom Petty – "Mary Jane's Last Dance"
Tom Petty doesn't really need to do anything other than stand next to me to "creep me out", but he does occasionally "sing"…and sometimes when he sings he dons really weird black and white checkered hats, sings with a bunch of Travelling Dingleberry's or if you want to go back even further he'll dance with an apparently deceased "Kim Bassinger"…which is what he did for this video.
I am fairly certain that the "Mary Jane" referenced in the video is somehow related to a green, leafy substance and is probably nothing more than an "inside" joke among potheads, Grateful Dead or Phish fans and Kim Bassinger, but the video is what made this song creepy…Plus you had to look at Tom Petty. Seriously though dude, if he were standing right next to you, RIGHT NOW…wouldn't that freak you the hell out?
#5) Breaking Benjamin – "Lights Out"
Wanna' know what "else" creeps me out? Hearing about people that are somehow battling the "voices" in their head. To be honest, I think I only hear, "that ONE" in mine, because he killed all of the others in some sort of Table and Chairs "Grudge Match". Mental Illness is no laughing matter (especially if you are REALLY into Kanye West) However, every once in a while a song comes out that "speaks" directly to that "ONE" voice in mine. Sometimes it sends chills down my back (but in a good way…I mean, I guess it's good) Breaking Benjamin is a band that I have been digging for quite some time now. Though some of their music seems a little bleak or distant, I don't necessarily think it's meant to be "Dark". But when I came across a video pairing this song with something that I completely find "SCARY as HELL", I couldn't help but put it on this year's list…Once, I quieted that "voice", that is…
…and NO…I don"t want to explain to you why some Animé creeps me out…It's a LONG story…let's just say if I were to run into Pikachu and Tom Petty in a dark alley, I would have some sort of "melt down" and leave it at that…Good God, that'd be like Superman just telling you where you could find some Kryptonite for CHEAP:
#4) Korn – "Freak on a Leash" 
Korn is originally from BAKERSFIELD…Out of the gate, as a former resident of Bakersfield myself, I have nothing but admiration for a group of guys (especially ones that look like "these" guys) to climb out of the squalor, depravity and utter hopelessness that "IS" Bakersfield, California and make a "Name" for themselves…Thought it isn't all that surprising to find that it is "misspelled"…
That being said and though Korn has a bevy of songs that are kind of on the "Creepy" side, I'd have to say that "Freak On A Leash" is one of their more "Disturbing Jim-Dandies"…But hey…I'm sure it is a little semi-autobiographical because of the whole, "Livin' in BAKO" thing…Believe me people, it's like a real bad rash (or a drunk relative at the end of dinner) that just won't go away…It "stays" with you. Don't worry guys, even though I wasn't "born" there…it gets "better"…
#3) Metallica – "One"
Though, when Metallica lost a bit of their "favor in my eyes" when they decided to get involved with record producer and "Soul Crusher" BOB ROCK in 1990 for their album "We Just $OLD Out" (Not it's real title) they never left my "soul" themselves. They had a gritty, rough and tumble mentality that sustained a lot of true Metallica fans, from the beginning. Though, I am still hard-pressed to find ANY Metallica fan that thinks Lars was ever really in it for the "band".
Either way, there is a sure-fire "creepy" edge to it. Released in 1989 (The year I graduated high school) It still holds a "special" place in memory as an aggressive and earnest power ballad. Inspired partially, by the 1939 Dalton Trumbo novel Johnny Got His Gun, it tells the tale of a soldier who is hit by an artillery shell and loses his limbs, eyes, ears and mouth. His mind functions perfectly, however, leaving him trapped inside his own body. Trumbo directed the movie adaptation in 1971, from which the footage for the "One" music video is taken:

#2) 3 Days Grace – "Chalk Outline"    
As far as I know, this song is really referring to some dude getting dumped or leaving a really bad relationship…If that were all that this song really "sounded" like, then I might as well put Cher's "If I Could Turn Back Time" at the number two spot…And don't think that the thought hadn't crossed my mind…Need I remind you of this?…Okay…You asked for it:
…Cher's ASS was "FOUL", Bro…Can you even imagin' that thing "NOW"? Ay! Caramba
…But I said I'd give the #2 spot to these wussies…so here is their thing…Try to "refocus"…It's supposed to be "edgy", I think…

 …still thinkin' about Cher's ass, aren't you?…I know…I know…
and last but certainly NOT least, a song that "SHOULD'VE" made my list, when I started doing these lists 4 LONG Years ago (but hey, at least I remembered it NOW…and No, it just "seems" like this one took 4 LONG Years just to "read".)
 #1) Santo and Johnny – "Sleepwalk"
 Released in 1959, by Italian-American rock and roll duo Santo and Johnny, this song makes my list some 54 odd years later…and I mean "odd"…
The song is instantly recognizable and also instantly "creepy"…at least to "me"…It has been featured in scores of movies and TV shows. Most notably (in my mental rolodex) in the god-awful Stephen King movie, "Sleepwalkers". It's a movie about this cat dude and his cat mom and they like, "do it" with each other and it's really pretty sick…but "This Song" is what really "stuck out" for me personally from that movie… Well, that cat incest stuff did too, but in a really gnarly, messed-up way.
…BUT annnyyyyhhhhooooo, quite a variety of artists have covered the song over the years and though I was tempted to throw up a montage of movie clips with the song in the background, I came across the original song performed by the original twosome and found the old black and white, grainy video pretty "Creepy Cool". From what I can tell these brothers from New York went on to enjoy modest success with international album sales…But, I would be remiss in saying that any of those songs were as popular as the one taking the top of this years "CREEPY SONGS LIST"…
…I enjoy the song in all it's Creepy Splendor…I trust you will too…
…WELL FOLKS…
That's it for another one of "these" things…hope those of you that were able to actually "peruse this in its entirety" weren't bored to tears or anything. Just wanted you to know that I appreciate those of you that have been around for the 4 years that I've written this thing. (You know who you are) Unfortunately…I "don't"…But by the looks of it, the emails and tweets, there are a couple of you…So "Thank You"…
…Haven't been writing as much, due to the whole "Real Life" stuff that goes on…
…"This" actually took me 2 months to finish…Not necessarily a "bad" thing, as I was able to include comments about a few things that were happening in "real time", like I do on "Twitter"…
But for those of you that stick around, I promise that "I" will too…as long as you'll have me…
For the rest of you, that maybe hated this or thought is was WAY TOO LONG or just simply think I'm an "ASS" for thinking about things the way that I do?…
Don't let the doorknob hit you in the ass on your way out…

…'Til Then…Go Figg'r!
Peace Out…Later
D A N
I'm the BEST KEPT SECRET on the WEB! But I've been tellin' EVERYBODY"