People have an uncanny way of identifying something that bothers me, conspiring to find "creative ways" to make it 100 times even

MORE

annoying, then "treating" me to this behavior, on a regular basis, until I say "when". . .

WHEN!

~danof89

(Warning: This bit is LONG. . . so you may want to unplug the phone and pop some corn. . . but don't make that "smacking" sound when you chew. . .thanks)
It has been a difficult last few weeks (and yes, I understand you don't "give a crap"). . . There hasn't been any "one" thing that has occured that could be viewed as "out of the ordinary" in my day-to-day dealings. But I've been struggling to formulate a list of ways that YOU could Stop Pissing Me Off. Unfortunately, it has been more of an "ordeal" than I had foreseen. No, not coming up with the list. . .  Not by a LONG shot. No, I mean trying to wittle it down to JUST 10. . . and a "HALF". I'm almost certain that the majority of YOU out there don't realize that YOU are doing it. I'm not necessarily sure it's even YOUR fault. I mean, how could YOU possibly know what it takes to make me happy? We've never been formally introduced. It's not like we have a "long history" or have been to therapy sessions together to try and hammer some of these issues out. . . right? (Well, I can only speak for YOU. . . as usual) And as I have absolutely NO intention of taking on any new "friends" until I "clear the air" with YOU, I think it's best if I just cut through the crap. . . YOU'VE got your work cut out for YOU. . .
The following list was compiled over the course of a couple weeks. It is by NO means a "complete" list. . .  These are just a few ways YOU fall short in the "ENJOYABLE TO BE AROUND DEPARTMENT". If YOU don't feel that any of these things pertain to you, then one of three things is probably happening:
You are clearly a delusional, self-important sociopath

It really actually DOESN'T pertain to you, but it certainly pertains to someone you know. Therefore, when you come across that person in the near future, you should tactfully point out that they have a "defect of character". (Warning: this may lead to fisticuffs, but it will be well worth it. . . unless you are killed – in which case, this warning completely absolves me of any legal responsibility)
or
You have already stopped reading this and have moved on to a site that doesn't require you to have to READ or THINK or CHANGE.
The list is meant to inform, educate and inspire. Because, there were SO MANY topics to cover, I am breaking it down into areas that even "stupid" people can understand. (You're welcome). . . in any case "these" are the . . .
"10 and a Half Ways You Can Stop Pissing Me Off". . .
#1) You have Driving Issues. . .Resolve them before attempting to share the road with me in the near future. I will get around to some of those things someday. . . But FIRST, I'd like to share with you my distain for BUMPER STICKERS (and/or WINDOW STICKERS) . . . I'm not sure when they were invented or WHY. My thinking, is possibly the chuck wagons of the "Old West"? I seem to recall pioneer artwork of "California or BUST"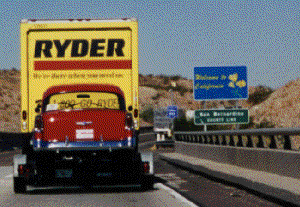 depicted in some sort of imagery from my youth. But I don't want to revisit my youth, I already live in California and I've had my fill of BUMPER and/or WINDOW STICKERS. I've talked about my hatred for VANITY PLATES before, but I didn't really delve into bumper and/or window stickers. But doing what I do "for a living" I see a TON of stuff on the roads out there. This may seem a little nit-picky, but something needs to be said. PEOPLE that "use" bumper and/or window stickers. . . are IDIOTS. If I wanted to know what Radio Station could make me a winner between 10 A.M and 2 P.M. daily, don't you think I'd be listening to them?
I don't really care "WHO'S ON BOARD" let alone need to stare at everyone in "Stickman" form, in descending order (that's from tallest to shortest) including your pets. 
Do you honestly think I am going to change my driving habits based solely on who your passengers are OR who you may leave behind in the event of an accident? Incidentally, half the time YOU are the only one in the vehicle (AND in the "Diamond Lane") I am also very "Sorry For Your Loss", to those who display the epitaph of your loved one on their rear window (clearly obstructing their view), but YOU make me nervous. . . Should you even be out on the road so soon in this condition? It's obvious you're still grieving. . . Worse yet, how do I know YOU weren't the one driving when we lost the "dearly departed"? Lastly, but not leastly. . . Let me address the entire concept of the BUMPER and/or WINDOW STICKER. To those who make the decision to apply one to their vehicle. What message do you think you are really conveying? That you exercise "poor judgement"? Here's a quick example: I see someone driving an '84 Renault Encore with a McCain/Palin bumper sticker. . . Now MY thought process immediately goes here: BAD DECISIONS around the horn. (#1) Even applying a sticker to my vehicle and automatically depreciating its resale value to begin with (#2) The RENAULT. . . a vehicle SO CRAPPY it is now only used in spy movies filmed overseas because the vehicle is banned from being sold in the United States anymore. . . yet they still sell the Ford Fiesta? (#3) McCain/Palin. . . you VOTED? (#4) Okay, well they LOST the election. . . right? Take it off and try to pretend it was a "phase". We've all moved on. . . could you try and take a crack at it too?. . . I don't know folks, but I KNOW there is some redneck out there with a "SOCAL" or "SKIN" sticker in his rear window internally chiding me for not calling them DECALS. I am sorry for your loss as well. . . of common sense. Keep doing stuff internally. . . in fact you can STUFF it. . . along with those "Rubber Bumper Testicles". . . that's "classy"!
#2) Cell Phones (in a recognizable and marketable form) gained mass popularity and reached 1,000,000 users in 1987. (That by itself, doesn't really "irk" me) As of press, there are somewhere between 3 and 4 BILLION (with a "B") (that does "irk" me) and I would argue that MOST of those users like to congregate in any area that is prone to having "Waiting Lines" at them. (Retail Stores, Restaurants, DMV offices, Doctor's offices, Professional Sports Stadium Men's Restrooms – in which 2 urinals are reserved for upwards of 50,000 men to use, during a VERY brief halftime show. . .etc) Here they take their "rightful place" (Directly in front of ME)Where they proceed to talk at great length and even greater VOLUME about their "comings and goings" and all sorts of "happy horse-mess" that makes up their meaningless existence, with someone who apparently is listening SO intently and is riveted to every single word that they have to say, that it is obvious to me that  (A) They are clearly obsessed with the person standing before me on the phone and are therefore a "stalker" (B) Dutifully feigning interest in this "psychopath's" life, because they are waiting for the person to die so that they can inherit a sizable trust fund (C) sleeping or (D) NON-EXISTENT. Listen people. . . I grew up through most of my formative years without the "convenience" of a cell phone, relatively unscathed. (Well, by that – other stuff scathed the hell out of me) Do ME a personal favor and wait until you get your "happy ass" home before making a phone call. . . The conversation can WAIT. . . Make a list of crap you need from the store, BEFORE you go to the store. . . and TAKE IT WITH YOU. . . You're holding up the line and NO ONE wants to hear about your Aunt Agnes's "Bone Spurs". – Don't EVEN get me started on driving and cell phones. I always hear people say, "I only carry mine in case of an EMERGENCY". . . YOU'RE LYING and I DISLIKE YOU with a fervor usually only reserved for Tom Cruise, Painful and Bloody Diarrhea (don't ask) and SATAN!!! Unless you're planning on backpacking through Iran any time soon, land lines can probably help you in the event of a catastrophe. . . so DON'T USE THEM . . . schmuck!
#3) Guys. . . Stop acting like "Guys". I don't really remember how old or WHERE in the hell I was, when they sent out the memo that said "Guys" had to be a bunch of Horny Dirtballs. That's bad enough on its own, but when you get MARRIED, I thought that was supposed to change. But, of late, there seems to be a "trend" in the world today, in which "Married Men" of all ages, shapes, sizes, and even sexual orientations have decided to take it upon themselves to be unfaithful to their wives, spouses and/or life partners. What are they doing? Are there really THAT many CRETINS out there? (For the record, sometimes I like to look up words so that I don't use them repeatedly. . . CRETIN was one of those words. I knew what it meant. I just wanted to use it properly within the sentence. But now that I have, I think Cretin Durham Hall High School in St. Paul, MN might want to rethink their name. . . or at the LEAST. . . their mascot
But seriously, aren't there MORE "Married Men" out there who are devoted to their wives and to proper grammar and LESS devoted to contributing to a "rash" of behavior that makes the rest of us HONEST, LOVING, FAITHFUL, DEVOTED husbands look like a dying breed. I think it should be stated that I still think that WE are in the majority. But we are overshadowed by some HIGH PROFILE ASSWADS
. . thanks for ruining it for everyone. Bottom line: You need to keep it in your pants and stay off the Viagra. . . Perhaps you should consult your "Gastroneurologist". . . because you have "S*** for Brains".
#4) Ladies. . . Stop acting Like"WHORES". Sorry gals. . .
You didn't think you were gettin' off that easy, did ya'. (Actually, that may be part of the problem) But what happened to being "Lady-like"
? WHY is that a BAD thing? You know all these guys running around on their wives and being unfaithful PROBABLY wouldn't be happening quite as often, if there weren't so many of YOU out there?. . . I mean, there are only SO many affairs that you can blame on Tori Spelling. Anyway, she ain't lookin' too good lately. . . as if she ever did. . . She looks like Kermit the Frog (or Hermit the dog)
. I'm also thinking that Paris Hilton is pretty busy with ALL of the single guys and probation, so it ain't her. But all is not lost, in 6 months, when she loses whatever is left of what some people misunderstood to be "looks", she'll move on to married men. It's the "rest" of you out there that I'm worried about. I have two daughters and I am TERRIFIED at the images that they see of what "young women" are supposed to be in a "Modern Day Society". There are NO mixed signals being seen through the Media or Entertainment. It's frustrating, as a parent, to see the deterioration of moral fabric and the deterioration of the value of our young girls. They can be so bright and capable, but are being asked to "Shatter the MIRRORED Ceilings" instead of the glass ones. It seems like there are some "females" (not to be confused with LADIES) out there still trying to say that "Sex is Empowering". Well sweetheart. . . when you "give it up" like a tuna fish sandwich. . . You Just Lost Your Power. . .undefined now you're a joke . . .I hope you, your "empowerment" and your self-worth are all happy together. . . least you got some spending money, right? Though it is referred to as the "Oldest Profession", it's still about "Supply and Demand". I "demand" you try an embargo. . . My research into this dilemma in MODERN TIMES can only lead me as far back as the "tramp stamp" tattoo and "Juicy" label on the ass of women's pants. (Incidentally, additional forms of Bumper Stickers. . . I'm sorry. . . "decals".
#5) Parents. . . Stop Raising A**holes. . . And stop lying to yourselves. . . They ARE…More often than
not, they are "Mini-YOU's"
... and who needs that? Is that really what you want? I am fortunate, with the reassurance that my kids are NOTHING like me. They are still wide-eyed and believe that ANYTHING is possible. But, again, because of what I do "To Feed My Family", I am given a unique perspective and insight in to "what" is being churned out by parents today and what's being billed as "Our Future". Because of what kids are exposed to in the mainstream worlds of Entertainment and Media, they hardly stand a chance. . . UNLESS, you are a good parent. But even then, the kids of today are so inundated with CRAP, it's hard for them to not become tainted or sullied in some way. I've seen drug deals take place on the sidewalks surrounding our kids' schools. I hear about parties that the kids are having in 9th and 10th grades where ALL SORTS of "grown up" stuff is taking place. But I'm not talking about "normal grown-ups"
.  They would have to be some pretty depraved, strung-out and desperate grown-ups. When I was a school bus driver, a few years back, kids tried smoking weed on my bus. I've had to turn away students because they are so stoned or drunk, they can't even walk. . . at 7 in the morning. (this is the wrong clip)
They try to send "Sext Messages". Your teenage daughter may have very well been the "Life of the Party" at some point. (In a lot of case she apparently WAS the party) But there is nothing I find more depressing than a pregnant teenage "girl". Maybe it's just me, but I very rarely see one that is outwardly HAPPY. . .
I don't know, maybe they just have a lot on their minds. I don't think I need to explain. Can I blame the kids of today for ANY of this?. . . Not really. But I can certainly blame their parents for having NO IDEA what there kids are doing. I am ALSO going to hold EVERY parent responsible for how their children interact with adults. If "I" would have tried talking to an adult, the way that some of those kids do. . . Well, I wouldn't be writing this. . . Because I wouldn't have reached adulthood. If I sound OLD (I'm only 39) Then so be it. . . The kids of today are out of hand and all I see on TV, in the Movies and through the Music is fueling the fire. Remember, this is all coming from a preacher's kid. . . In my day, I was the definition of "Hellraiser" . . . But YOUR kids?. . . A**holes. . .
#6) Proper Public Restroom Etiquette is important. . . or is it just ME? Do NOT, for the love of God, ask me for toilet paper under the stall. That presents a whole host of problems (as most of you know) yet it still continues to happen. My family (1 wife – 4 children) refuse to use public restrooms. I understand why, but I am a "dude"…
and as such, can not be ensnared by the trappings of such trivial things as "hygeine" or "common sense". When I have to go, I have to GO. . . There is no room for debate or conecture. It's going to happen. My family likes to joke that I need to write a "Tour Guide-style book" about "Public Restrooms Across America". Complete with a starred rating system and a "Must Pee to Believe" category. But this is really supposed to be about how YOU are pissing me off, so I should probably discuss that more than my bladder control issues. . . Now I should point out that I certianly don't "linger" in public restrooms. That is an activity usually reserved for celebrities, perverts and politicians (redundancy anyone?).
 But I DO have time to "survey the scene" and make an educated assessment. The MAIN problem that I see with public restrooms in this country is that they are. . . Frickin' NASTY! I'm not just speaking about MEN'S restrooms either. . . Ladies (and I still use that word "loosely") you aren't innocents in all of this either. Understand, that I have only seen the inside of women's restrooms, when I REALLY had to go. (I told you when it happens, there ain't no "holdin' it") 
…But rest-assured that there have been no women occupying them at the time. As far as you know. So let me briefly address some of what YOU need to work on, in order that my bathroom-using experience might be a little less "traumatic". (A) IN THE STALL – If for some  reason I need to "Drop a Deuce" (like, I can't make it home) and YOU occupy the stall next to mine. . . MAKE NO NOISES! That is a horrible thing to do. Can't you Crap in SILENCE? When I hear you "rootin' around" or hootin' and hollerin', I inevitably get a "visual", that I never intended to get. . . Oh, you also need to try a courteousy flush. You'd be surprised how BIG of a diference it makes. Just flush halfway through. You'd be doing EVERYONE a favor. (B) THE WALLS, SINK, and URINALS – Do NOT wipe boogers on them. . . SERIOUSLY. I mean, usually you have access to paper towels and toilet paper right there! So take advantage of that opportunity to "swab those snotcakes" with the correct implements and dispose of them properly. NO ONE (and I speak for EVERYONE) needs to see what has been lining the inside of your nasal passages, just because you can't "take care of business" at home. . . I would echo the sentiment for the appearance of "pubic hair" in or around the wash basin. What the hell are you washing in the sink? You people are disgusting. (C) FLUSH! FLUSH! FLUSH! I don't want to see what you had for lunch yesterday and flushing AFTER you, before I can go myself, is not only time-consuming (you have to wait to make sure it goes down) but it is really SUPER GROSS. . . If you are THAT disgusting at YOUR house, it should come as no surprise that you don't do more "entertaining" at home or why no one comes to your Super Bowl parties. . . You probably have pubes on your bar soap. That's exactly why liquid soap and sanitizer now enjoy such popularity. . . sickos!
#7) Stop Perpetuating Negative Racial Stereotypes.
If you want to perpetuate POSITIVE racial stereotypes, that's perfectly FINE with me. But PLEASE don't drag me into your "Little Personal Hell". If you've got some sort of problem with society, the LAST thing you need to do is OVEREMPHASIZE what ethnicity you are. . . Don't get me wrong. Just because I am white, doesn't make me think white folks are precluded from this type of activity. In fact, because of my current geographical status, I find myself SMACK DAB in the middle of "WHITE TRASH HEAVEN". Sure, I live in California, but I live in BAKERSFIELD. . . which is, beyond a doubt, the most REDNECK city on the entire West Coast. . . It SCREAMS "Ignorant". . . which, as most of you know, is what breeds the stereotype to begin with. For example, WHITE TRASH is often confused with "poor white people". They are VASTLY different. Though some of you may consider me "ignorant" (and that's okay, because even stupid people deserve to have an opinion) I am actually pretty highly educated. . . and poor. In fact, I have 2 (count 'em TWO) college degrees. OKAY, they are Associate degrees (apparently, 2 Associate's DOES NOT a Bachelor's make) but it doesn't matter. . . 'Cuz bein' smart ain't always about Fancy Book Learnin'. But I digress. (as expected) I'm just a little hesitant to approach this topic, because whenever a "white male" talks about RACE in America, there is often a RESPONSE that seems (to me) to be a little "radical"
. Let me offer up a "personal experience" to try to help me illustrate a point. Not that long ago, I found myself in a WALMART (big shock, huh?) I was shopping for various household goods and found myself in the same general vicinity as a black lady who had 3 of her children in tow. It was obvious to me, that the woman was having a bad day. In between yelling at her kids for opening up packages of chips, and changing her babies diaper in the shopping cart (yes, IN the shopping cart) She could barely keep up "her end" of the conversation on her cell phone AND gather the eight 40 Ounce Bottles of Olde English Malt Liquor with her free hand. (Well it was free, once she set the "old dirty diaper" on the shelf housing the chips . . . it's okay, the kid had a new one one – from an opened package in the woman's shopping cart)
. . . Being thoroughly disgusted by this, I decided that my family might enjoy some Cheezit's instead of Dorito's, so I walked around the corner and picked out a "poop-free" snack alternative for my kids. I tried to put the "lady having a bad day" out of my mind and also some distance between us. I finished up getting what we needed at home and headed for the checkout. But when I got there, the only "EXPRESS LANE" that was open already had someone standing in line. It was HER. . . still "jawwin' " on the phone. I'd tell you what she was taling about, but I don't really care. I did notice that NOW it seemed she had shed one of her children. She was still talking on the phone and "keepin' an eye" on one of the kids as they opened a candy bar and started looking at the pictures in a "Star Magazine". As she unloaded her 153 items in the "EXPRESS LANE" from her cart, I noticed that she had now seated the freshly-diapered infant in the seat formerly being utilized as a "changing table". The other thing that I noticed was that the child had somehow shifted out of the seat and was now reaching for a candy bar for her "damn" self. She was gving it all she had to reach one, while her unattentive mother unloaded the last of the 40 ounce bottles of Olde English Malt Liquor. The child tried one last desperate stretch, but began to lose her balance. . . At that point I decided to intervene. . . "Eh Hemm," I said REALLY loudly while motioning to the woman to take a gander at her kid perched precariously, one leg in the basket, the other on the newsstand. The "lady" on the phone abruptly decided to terminate her cell phone conversation. Unfortunately now her attention shifted to ME, instead of her child. . . "Excuse ME?!" she asked, "Can I HELP you?" (She was having a bad day) "Uh, your baby was going to fall, I just. . . " that's all I got out. . . "AHHHH HELL NO!" she exclaimed, as her missing child brushed by my leg to join his mama for a good old fashioned "Beat Down". "Nah, You DIN'T. . .You ain't gonna' tell me how to raise my baby. . . Who you think you are?" (NOTE: I could have stood in there "toe-to-toe" with the woman, but on the day in question I wasn't feeling particularly "Froggy". In addition, it was obvious that "Who the Hell" I was, in this scenario, had already been determined. I represented all 3 of her children's fathers – trapped in the body of a "white man". . . who wanted to abandon her, just like they did.) Instead, I promptly realized that I had forgotten to pick up some lightbulbs and quickly excused myself from her "company", while her critique of my parenting skills was proclaimed to the entire front of the store. . . As I left that day, I noticed the woman in the parking lot. Actually, I noticed her "children" running around first. . . unsupervised. The baby was now standing in the basket and waved as I drove by. . . Some may say that I am being undeservedly critical of a single mother, who is obviously doing her best to handle the rigors of raising 3 kids on her own. Well, you lost me at MALT LIQUOR
. . . and when I tried to help her, only to be stifled. . . well, that "Sealed the Deal". She just perpetuated the hell out of that stereotype. But this isn't just about "black and white". . . To the HISPANIC people out there who think you're getting out of this too?. . . Why don't YOU ever watch your kids in a parking lot either? Just curious . . .  But, I'm sorry. . . I DID say I didn't mind if you kept on perpetuating POSITIVE stereotypes, didn't I? So I really don't mind if you continue to take the jobs that no one else wants to do. I love your delicious fruit and my lawn has never looked more pristine. . . (No, I don't have an latino gardener. . . I mow myself. But my LANDLORD is a Mexican) See, I told you it was hard for a "white guy" to joke about race. . . Yet I continue. . . I can't really talk about EVERY race and the stereotypes attached. Therefore. . . and BRIEFLY (A) People of Middle-Eastern descent: Lower the price of gas at your service stations and stop trying to build mosques on "Ground Zero", BUT, PLEASE continue practicing medicine. You're doing a "bang-up" job. (B) Those of the "Asian -Persuasian": I don't really have anything for you. . . except maybe stop making electronics so "small" and could your children tutor my kids in math and science?(C) Native Americans: I don't care if you get sloppy drunk. . . your land was stolen. I understand you need to "blow off some steam". . . . Okay, that's all I've got about "racial sterotypes" today . Let the "games" begin. . . but I get the black guy.
#8) Celebrities need to stop acting like they are more important than everyone else. . .
I realize that I said that if some of you didn't identify with one of the things on the list that you should pass that information on to someone that you know. So what if you don't KNOW a Celebrity? Well there's that whole "6 Degrees of Kevin Bacon". Tell someone and maybe it'll get around to a celebrity. But probably not Kevin Bacon. I've played that game a bunch of times. I know a lot of people that don't know ANYBODY. Let alone anyone that KNOWS someone. I know I don't know anyone. I wouldn't still be writing this crap if I did. But if there is ONE WORD that I could use to describe HOLLYWOOD and CELEBRITY it would be. . . 
. . . not me. . . I don't. . . I don't even "like" a comeback. If you choose to piss away your opportunity, it should be "one and done". End of story. At the very least, institute a "3 Strikes Policy" like for other criminals and socially maladjusted freaks. The CELEBRITY always seems to be clammering for a REGULAR life. . . Theirs are always so "intruded upon". . . Well, that's your JOB, chumpstain. . . That's what you signed up for. You want a REGULAR life? . . . To be treated like "everyone else".  Bullcrap! I'll treat you like any other employee that's ever worked for me (Yes, I've actually been in management. . . scary, huh?) CELEBRITIES will NOW recieve a verbal warning for their first offense. Their second?. . . A written. THEN they will be issued a "FINAL"! . . . Your ass just got FIRED. . . now hit the bricks and go back to Orange Julius where you started. But I, being who I am, do not have the requisite clout to start this judicial governing body. . . We will need to find someone who can handle the job, until I am able to take their place and gain the respect of those who I will be dispensing my brand of "justice" to. . . But WHO?. . . Judge Judy could do it. . . Just not Nancy Grace. . . please. . .
#9) YOU have become a society of VICTIMS. We are either the "sued" or the "sueable". It is ALWAYS everyone's fault but YOURS. For whatever reason, there seems to be no measure of accountability coming from ANY direction. The government is busy blaming its problems on members of opposing parties. People are blaming the government for their financial problems. I blame YOU, YOU blame ME. . . Blah, blah, blah. . . shut the hell up. . . Ultimately, if YOU aren't in control of your situation. . . you have no one to blame but YOU. . . I, of course, am not referring to those with LEGITIMATE disabilities, the young, the elderly, those in poor health, people who've been caught in a natural disaster, those who were born into impoverished or 3rd World countries (excluding South Central Los Angeles – – as they have a MORE than adequate public transportation system. . . seriously, you need to "get out" more. I mean, go to the BEACH). . . OH! and dead people. Sometimes, the "Buck Stopped" long before they got a chance to ask for "Change for the Buck". But for the rest of YOU. . . Take RESPONSIBILITY for ONCE in your lives. You were big enough to get into your own mess, now get yourself OUT of it. . . and once YOU do?. . . I'll be waiting with a towel so you can wipe off all the S***. . . In other words. . . "I'll meet you halfway". A very POPULAR phrase in our world today. With so much THERAPY going on. . .
. . . So many people being prescribed SO MANY different medications because NOW there is a "condition" for EVERYTHING. . . You know WHY? Because people are meeting each other HALFWAY. . . Because everyone is doing everything "HALF-ASS". Nobody can even commit to anything anymore. They can't see something through to the end. It's all about the "Here and Now" and that seems to "Take TOO Long". What are the statistics for Divorce in this country?. . . exactly. . . it's just easier to "Drop the Prob' and Move on to Bob" (or Keith. . . but that didn't rhyme with Prob') You must follow the advice of Reverend MC Hammer and be "2 Legit to Quit"
. . . even though I think HE did. . . (Please Hammer…HURT HIM!)
#10) Everyone. . . STOP TRYING TO "FIX" ME!
Some people have said, "Woah. . . you're so ANGRY. . . You need some happiness in your life. . ." I HAVE happiness in my life. . . EVERYONE DOES. . . If you choose not to "see it", that's really on you now, isn't it? But, I tell you what I'm going to do. . . I'm going to STOP getting quite as upset as I used to when YOU do something that I find incredibly STUPID. I'm going to STOP letting what YOU do, keep me up at night. (because I have a prescription for a STRONG sleep-aid) I'm going to make sure that you know I'm going to start the "Healing Process". . . in other words. . . I'll meet you "HALFWAY". . .Yeah, I will do that for YOU (because I'm such a great guy and Lord knows, YOU wouldn't take the initiative) Fortunately, if I am going to be expected to do that. . . that means I only have to "Half-Ass" it. . . and because I ended up having to waste an ENTIRE "WAY" on explaining my intentions behind this list and "WHY" I myself, am vastly superior to those that keep on screwing up almost every single day of my life, by asking me to EXPLAIN myself. . . I will just say that having to EXPLAIN MYSELF to YOU, for ANY length of time, is precisely what rounds off the "TOP 10 Ways". . . but wait. . . there was a "Half" in the title wasn't there?
Yes, there was. . . you impatient bastard. . . and here's the "half" – of your "10 and Half Ways You Can Stop Pissing Me Off"
Maybe, I just need a "hug". . . or a support group
. . . maybe I need to go to Sunday School more often. . . Well, God and I are pretty good friends, thank you. I know for a fact that he has performed miracles and still does every day. Unfortunately, keeping YOU from being a Dumbass isn't one of them. . . It's part of that whole "Free Will" thing. . . maybe he shouldn't have given YOU that. . . But I'm not second guessing him. That typically doesn't turn out very well. You're lucky I'm in a good mood. . . So sure, I'll meet you "Half Way". . . but I already did my part by offering up a list of things that YOU can change about yourselves, to make this all go a lot easier. . . but, this would all just go so much easier if YOU weren't involved. . . but, as it stands, you ARE. . . The rest is up to you. . . but knowing YOU. . . I'm sure you'll "Half-Ass" it. . .
'Til Then. . .
Go Figg'r!
Peace Out – Later
D A N
I'm the BEST KEPT SECRET on the WEB! But I've been tellin' EVERYBODY"
http://www.blogtopsites.com/humor/
The Best Links
Best of the Web!
P.S. If, for some reason, you were offended by any of THIS, feel free to leave me a comment. . . That's what makes this country GREAT. . . Even YOU get an opinion. I will probably look at it and maybe even consider it, before dismissing it as irrelevant to any aspect of my life. . . Thanks again. . .
P.P.S. COMING SOON!!!!!!!!!
101 WAYS YOU CAN STOP PISSING ME OFF…
"THE DEFINITIVE COLLECTION"